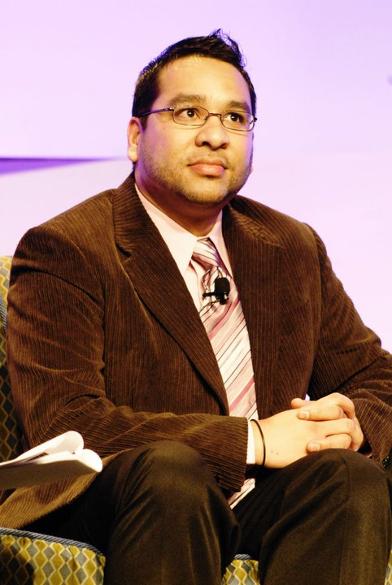 LGBT Activism: Faisal has represented Al-Fatiha on a number of advisory boards. From 1998-2000 he was the youngest member of the National Religious Leadership Roundtable (NRLR), an interfaith network of more than fifty lesbian, gay, bisexual, and transgender faith-leaders in the United States. During his tenure as volunteer director of Al-Fatiha, Faisal served on the national advisory boards of: the Center for Lesbian and Gay Studies in Religion and Ministry at the Pacific School of Religion in Berkeley, PFLAG National's Family of Color Network and the Fellowship for Reconciliation's LGBT Network.

Faisal is a former advisory committee member of the LGBT Program at Human Rights Watch (HRW) and a former advisory board member of Muslims for Progressive Values (MPV).

Media Coverage: Faisal's work with Al-Fatiha and the LGBT Muslim community has been featured in newspapers and magazines around the world, including the New York Times, Washington Post, San Francisco Chronicle, Al-Hayat, Atlanta Journal Constitution, and the Miami Herald. He has also appeared on BBC News, BBC Radio and Huffington Post Live. Faisal has written numerous articles and opinion/editorials that have appeared in gay and lesbian newspapers including the Washington Blade the New York Blade, and the Southern Voice. Faisal was one of the first LGBT leaders to speak out against the US-led war in Afghanistan and the US-led invasion of Iraq. His protests against the rising Islamophobia and the assault on civil liberties and civil rights in the US led conservative elements within the gay community to call for his deportation to Guantanamo Bay, while some conservative gay journalists called him "weak" and "cowardly," for his opposition to the so-called "war on terror."



Community Activism: Faisal has been active in numerous community-based organizations in Boston, MA, Washington DC, and Atlanta, GA including: MASALA (Massachusetts South Asian Lesbian & Gay Association), AQUA DC (Asian Queers United in Action), Khush DC (an LGBT South Asian group), OUTFront DC (the LGBT program of Amnesty International, USA) and Trikone Atlanta (an LGBT South Asian group).


Social Justice Work: In addition to his LGBT faith-based activism, Faisal has championed other social justice concerns including human rights, immigration & asylum rights, HIV/AIDS education and advocacy, public health, reproductive health and reproductive justice. His past employers have included the National Gay and Lesbian Task Force, the National Minority AIDS Council, and the Association of Minority Health Professions Schools. Faisal currently resides in Atlanta, GA where he continues to advocate for peace, equality and justice.
FAISAL ALAM
* speaker * writer * organizer * activist *


Faisal Alam is a queer-identified Muslim activist, speaker and writer, of Pakistani descent. At age 19, Faisal founded Al-Fatiha an organization dedicated to supporting and empowering lesbian, gay, bisexual, transgender, intersex and questioning (LGBTIQ) Muslims.

He led the organization as its volunteer director from 1997 to 2005. Since founding Al-Fatiha, Faisal has traveled across the country and around the world to meet with LGBTIQ Muslims to build a global queer Muslim movement for justice and equality.

Faisal's presentation "Hidden Voices: The Lives of LGBT Muslims" has been featured at more than 150 universities and colleges. He has spoken and presented at numerous events across the country including LGBT interfaith services, inter-religious LGBT panel discussions, at synagogues, churches, PFLAG meetings and other community events.

In 2000 Faisal was one of a handful of religious leaders who spoke at the Millennium March on Washington which brought together more than 500,000 people from across the country.

In August 2011, Faisal had the honor of being invited to the annual White House Iftaar (breaking of the fast dinner during Ramadan) with President Obama, the first time an openly queer Muslim has attended this annual event.


Recognitions & Awards: Faisal has received numerous recognitions for his activism on behalf of queer Muslims.
Advocate magazine selected him as an "Innovator" in 2001
Genre magazine honored him as a "Founding Father" in 2002
Utne Reader chose him as one of 30 "Young Visionaries Under 30"
Equality Forum recognized him as one of "40 Heroes" who have "made a defining difference in LGBT civil rights over the last forty years."
In addition to these honors, Faisal has received awards including:
"Faith in Action" award by the Metropolitan Community Church of New York City (2003)
"Legion of Honor" award by American University's LGBT and Ally Resource Center (2003)
"Outstanding contribution in the area of spirituality that positively impacts LGBT communities," awarded by Pride Toronto (2008)
"Community Honor" award from the Unity Fellowship Church of Atlanta for his "tireless justice seeking efforts on behalf of LGBTQI individuals, and all marginalized people."
Keynote and Plenary Speeches: Faisal has been featured as a plenary and keynote speaker at regional and national conferences including:
Creating Change (sponsored by the National Gay and Lesbian Task Force (2001 and 2010)
Amnesty International's Mid-Atlantic & Mid-West regional conferences (2001)
University of California's system-wide LGBT conference (UC Riverside, 2003)
Mid-West LGBT Student's conference (2006)
LGBT Western Regional College conference (University of California Santa Barbara, 2009)
Southeast Regional Unity conference
(University of North Carolina at Chapel Hill, 2011)
True Colors conference
(University of Connecticut, 2011)